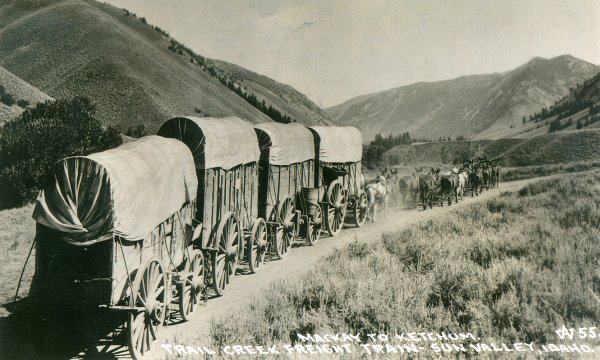 Trail Creek Freight Train from Makay to Sun Valley, from National Stagecoach & Freight Wagon Assoc.
Custer County History
Martial Law Declared in Timbered Counties, 1931
South Custer County Historical Society Articles
Historical articles of the South Custer County area. Our appreciation to the President of the Historical Society Earl A. Lockie who made these available. - South Custer County Historical Society, Box 355, Mackay, ID 83521
Chilly, ID - The Rise and Fall, by Ray Thalman
Chilly, by Marge Fulton Smith
CCC Camps of the Mackay Area
Wayne Darlington, by Juvanne Ciezie
Mackay's Flying History
Mt. Borah - Idaho Gets A New Highest Mountain (in 1929)
Mackay's Mt. McCaleb, by Earl A. Lockie
Mackay's Mackay
The Mackay Mansion, "The Stacy House" (1903)
Mackay's Newspapers (1885)
And Let There be Lights - Electricity comes to Mackay (1908)
Mackay Gets A Hospital (1908)
A Mackay Sunday Afternoon 1914, Play Ball!
Mackay Gets Moving Pictures Shows (1910)
The Talkies Come to Mackay (1930)
The Clock on Main Street, Mackay (1919)
Mackay's Tourist Park (1920)
The Cottonwood Grove Pavilion (1934) by Charolotte McKelvey
The Shay - The Little Engine that Could
The Shay's Last Days
Mining's Ups and Downs, Mackay's "Mine Hill" Aerial Tramway
Early Schools By Iva M. Tipton
An Unusual School Bus, by Marion Blume and Iva Tipton
Fast - Even Today, Auto Travel 1910-1914
The War Comes to the Valley (WWI)
The Mining Town of Whiteknob
Whiskey Springs By S. L. Larter
Off-Site Links
History of Custer County, 1900, by Jesse R. Black Custer County at westernmininghistory.com
Idaho State Historical Society
Historical Register
American Memories Project At the Library of Congress Web Site
Reading
Green, Roberta H. They Followed the Glory Trail. ("Stories about people who lived in the ghost town of Custer").
---